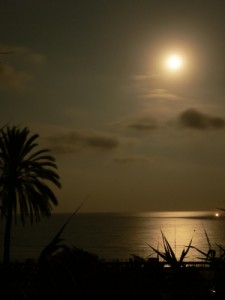 It was a dark but moon filled night, as the light gleamed off the ocean and into the room where we sat chatting.  Subtle surf sounds provided the background for our conversation.  I laughed when his eyes sparkled at my suggestion.  And he laughed at height of the heels on my newest shoes.  It was almost like being there even though he was 5,431 miles away.
We talked about our day and he showed me his latest video. I think we are very fortunate to be able to chat via internet, with webcams and microphones and not pay high long distance telephone bills.  However,  we might limit our conversations if this wasn't so close to actually talking face-to-face!
———
I often wish that time would move faster so he could be back in the states but until we are reunited I am grateful for Web Conference from GVO!